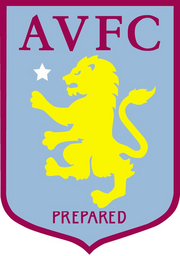 Founded:1878
Stadium: Villa Park
Average Attendance: 35,060
Based:Birmingham
Chairman: Randy Learner
The Squad: (All links to http://en.wikipedia.org/wiki/Aston-Villa-FC., which uses cookies)
Club Record Fee/Player:Darren Bent signed for AVFC for £24m, who is out on loan duty at Fulham.
Ad blocker interference detected!
Wikia is a free-to-use site that makes money from advertising. We have a modified experience for viewers using ad blockers

Wikia is not accessible if you've made further modifications. Remove the custom ad blocker rule(s) and the page will load as expected.